I'm not going to lie, I would have killed for a best friend like Bucky when I was in middle school. Like Steve, I was unpopular and didn't really have any peers my age I could talk to.
But I'm older and wiser now. I strive to be a friend to others the way Bucky was to Steve and vice versa: loyal, kind, and willing to help the other person be happy.
The words "I'm with you 'til the end of the line" don't have to mean anything, and yet to an entire fandom they embody the boundless devotion and loyalty between Steve Rogers and Bucky Barnes. They invoke the moment when it looked like Steve would pay the ultimate price for being Bucky's friend. Steve uttered them to show that he was willing to let the Winter Soldier do what he was trained to--if that was the only way to reach the man he hoped was somehow still inside.
Via hollywood.com
To me, "til the end of the line" means that you are willing to support and stay with the other person no matter what. It's true that this applies literally, but also consider this: if they want to be alone, you give them their space but keep them in your heart.
Take Steve after his mother's funeral in the flashback in Captain America: The Winter Soldier. Bucky offered to let Steve come stay with him. Steve, however, wouldn't hear of it. Though he had health challenges he made it a point to take care of himself, to stand on his own two feet. And what was more, he wanted to be alone with his grief for a while.
But Bucky made it clear that he didn't need to--and Bucky knew that no one ever has to suffer grief alone, not without a friend by their side.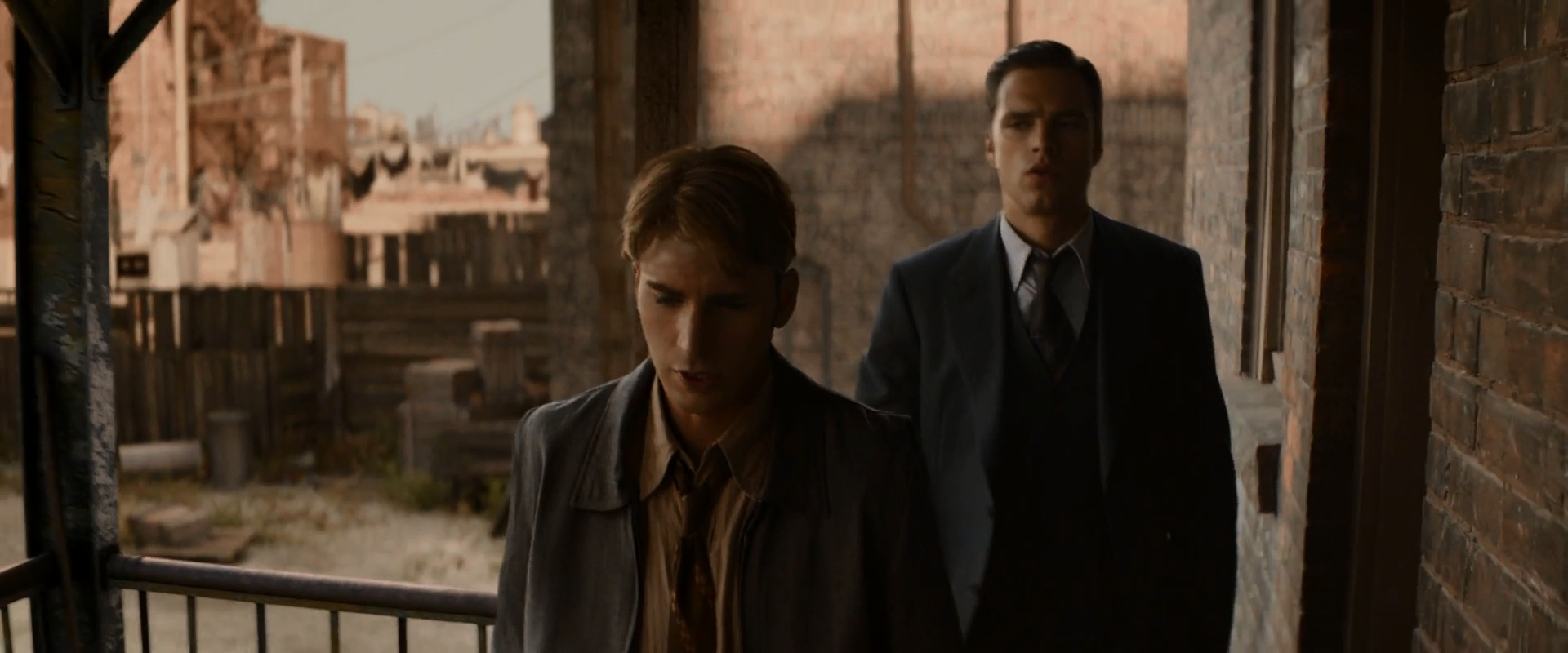 Via sites.google.com
I've found myself in situations where I've had friends having a difficult time right when I wanted to do something else with them. But when I understood that my friends had different needs, I put aside my own expectations so they could take care of themselves. The fact that we didn't end up hanging out quite the way I expected did not change the fact that we were friends. Showing someone that you are their friend means giving them whatever they need to deal with their challenges--and that can mean that you are letting them take their time. Through whatever the other person has to go through, through whatever they choose to do or how they decide to deal with it, you stay with them.
Captain America: Civil Wa
r coming out on May 6th marks the long-awaited day when Steve and Bucky will be reunited. However, the circumstances of that reunion will be trying for both of them, and even without a war raging around them, our favorite super-soldiers aren't going to automatically have a perfect relationship again.
Via newmediarockstars.com
Why, for instance, did the Winter Soldier leave Captain America lying on the bank of the Potomac and go off on his own instead of wait for the man he knew was his friend to come around? Why at no point before, during, or after the events of
Age of Ultron
did Bucky not turn up again? In my opinion, Bucky simply wasn't ready. He had seventy-plus years of physical and emotional trauma and PTSD and heaven knows what else to deal with. He had to figure out how to live with himself and either hide or find some way of getting a normal life or both--and none of that is easy with a metal arm. He could have simply wanted to figure out himself first. In fact, he may even have been afraid to go back to Steve and didn't want to at all. If that's the case, I think Steve will understand--he might be frustrated, but he'll understand, in the end.
Looking for someone who didn't want to be found probably wasn't easy for Steve or Sam Wilson or anyone else involved in the search. But when Bucky does turn up, Steve will be ready to do whatever it takes to help him. In fact, Steve will fight and die for his friend because in the past, that's what Bucky did for him. Their relationship is unique because Bucky was Steve's closest friend in the formative years of his life, and he's the only friend, no matter how damaged, that Steve has left from his past. He was the 'friend in middle school' when Steve was the unpopular kid. Seeing Bucky become the butt of a government reprisal against superhumans, spearheaded by people that Steve considers bullies (and you know how Steve feels about bullies), will push Steve to the brink.
Maybe
Civil War
will be dark and gory and maybe it'll take some uncomfortable turns for the development of all our favorite characters. But there's reasonable hope, in my opinion, that Steve will be true to himself, be the good man that Doctor Erskine saw him as, the man who became a hero because he wouldn't rest unless the best friend who had given him everything was safe.
Via geeksout.org
The important thing is, do YOU know what you can give to the people you care about?