(I apologize for the crappy formatting. Much to learn I still have. :/ )
So a brief intro for those of you reading this who are not members of my faith: the Church of Jesus Christ of Latter-day Saints is led by living apostles and prophets. They lead the Church based on direct revelation from God. The current prophet and president of the Church is Thomas S. Monson. Today's blog post is about the fifteenth president of the Church and President Monson's predecessor, Gordon B. Hinckley. President Hinckley's teachings are the course of study for Priesthood and Relief Society classes in the Church this year. Reflecting on President Hinckley's life has caused me to feel, how shall we say, a little nostalgic. But personal blogs are for reminiscing, so let me put it to use.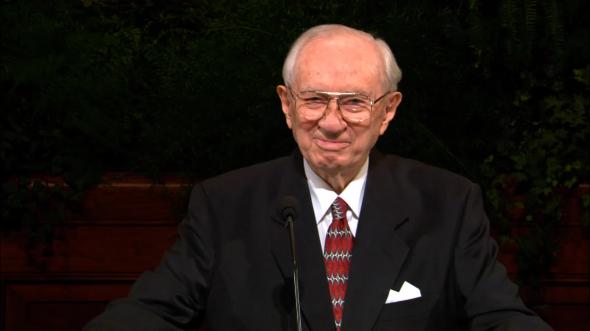 lds.org

A Leader During a Time of Change
Technically Ezra Taft Benson was the prophet when I was born. But I don't remember him. Or President Howard W. Hunter. I don't remember when President Hinckley became the prophet. He was just always there.
Gordon B. Hinckley made a huge mark on the Church. His administration was a time of growth and growth requires a lot of energy. So I remember his energy, and the energy that everyone in the Church felt at that time. He did a lot in bringing the Church into the public spotlight and representing us to the media. He brought the Church into the age of the Internet. When I was a little kid my family had to go to our chapel to watch General Conference, but by the time President Hinckley passed we were staying home for 3 or more sessions and watching or listening to it on the internet.
During his time as prophet, membership in the church passed 11 million worldwide and then accelerated (Today we're past 14 million). President Hinckley made long, arduous trips across the globe to visit as many of the Latter-day Saints as he could and to meet with world civic leaders.
lds.org
And he built temples. Dozens of them. President Hinckley had a deep reverence for the temple. It was mentioned at his funeral mentioned that every time he reached the underground parking entrance to the Salt Lake Temple he would remove his hat as a sign of respect. With such a reverence for the temple, it's not surprising that he made such an effort to bring the blessings of the temple to the saints around the world.
While Gordon B. Hinckley was the president, the Church went from under 50 temples in the early 90s to 124 or so in the late 2000s. The San Antonio Texas temple was one of these temples. I saw him in person twice in my lifetime: when he came down to Texas in June of 2001 I think to announce the temple and in May of 2005 when he came for the dedication.
He held a special meeting for the youth right before the Heart of Texas Jubilee, the cultural event we had
slaved
putting together to celebrate the temple. He told a lot of jokes, I recall, but I can't remember exactly what most of them were. He did say to the adults that this meeting was for the youth: "I'll talk to you tomorrow." He gave us four of his nine "Be's" but I can't remember which ones. President Hinckley put a lot of emphasis on the youth, in his ministry. He taught us to stay true to our values, no matter what.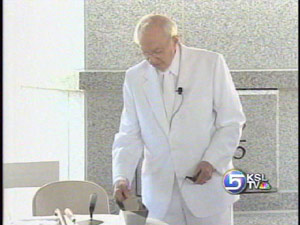 ksl.com
I remember at the dedication he made a joke about green bananas and advised against growing old. He also apologized for his husky voice due to the superior air quality of San Antonio to Salt Lake. That's some serious shade right there.
He was just so COOL. But more importantly he loved all of the members of the Church. And everyone who met with him felt it.
One thing I loved President Hinckley for was his humor. He was known to share funny anecdotes in his conference talks. And he could crack good one-liners occasionally.
But one way he made people laugh, though, was how he surprised them with his personality.
Mike Wallace's introduction to
Standing for Something
is one of the most hilarious things ever written, mostly because it is about how taken aback he was to interview President Hinckley, and about how agog everyone else was that President Hinckley had the nerve to go on
Sixty Minutes
. Nerve. That's a great word to describe president Hinckley.
President Hinckley didn't let old age slow him down from doing the Lord'
s work--or being his usual exuberant self. I remember at his funeral, President Monson told this story. He and President Hinckley went to the same doctor. One time at a doctor's visit, the doctor told President Monson that President Hinckley didn't actually use his cane to support himself while he walked. More often than not, he used his cane to wave at people. The doctor politely asked President Monson if he would intervene and tell President Hinckley to actually use his cane like he was supposed to. But President Monson replied, "You're the doctor. You tell him."
(lds.org)
When he rededicated the Tabernacle on Temple Square, President Hinckley informed the congregation with some regret that, although many improvements had been made to the historic structure, the benches were still just as hard.
On humor, he said, "In all of living, have much fun and laughter.
Life is to be enjoyed, not just endured."
He saw humor as a better way to handle life's difficulties than anger or despair, and that was part of his overall philosophy.
Gordon B. Hinckley and Optimism
Gordon B. Hinckley was an apostle and later president of the Church in times when the world at large was undergoing political, economic, and social turmoil. An address he gave to BYU in 1974 came right on the heels of Nixon's resignation. He commented on how he had read in the newspapers about Gerald R. Ford pardoning Nixon, and more disturbingly how public opinion at the time criticized Ford for doing so. President Hinckley said to himself, "Surely, this is the age and place of the gifted pickle-sucker."
"I come this morning with a plea that we stop seeking out the storms and enjoy more fully the sunlight. I am suggesting that we "accentuate the positive." I am asking that we look a little deeper for the good, that we still our voices of insult and sarcasm, that we more generously compliment virtue and effort. I am not asking that all criticism be silenced. Growth comes of correction. Strength comes of repentance. Wise is the man who can acknowledge mistakes pointed out by others and change his course. I am not suggesting that our conversation be all honey and blossoms. Clever expression that is sincere and honest is a skill to be sought and cultivated.
lds.org
What I am suggesting and asking is that we turn from the negativism that so permeates our society and look for the remarkable good in the land and times in which we live, that we speak of one another's virtues more than we speak of one another's faults, that optimism replace pessimism, that our faith exceed our fears."
Gordon B. Hinckley was President of the Church when 9/11 happened. In the General Conference that followed--the very weekend that the war began in Afghanistan--President Hinckley gave an address that, in my opinion, reflected his teachings on
the need for hope
and optimism even in times of distress.
I do not wish to be an alarmist. I do not wish to be a prophet of doom. I am optimistic. I do not believe the time is here when an all-consuming calamity will overtake us. I earnestly pray that it may not. There is so much of the Lord's work yet to be done. We, and our children after us, must do it….
God our Eternal Father will watch over this nation and all of the civilized world who look to Him. He has declared, "Blessed is the nation whose God is the Lord" (
Ps. 33:12
). Our safety lies in repentance. Our strength comes of obedience to the commandments of God….
mormonhub.com
Are these perilous times? They are. But there is no need to fear. We can have peace in our hearts and peace in our homes. We can be an influence for good in this world, every one of us.
He told us repeatedly that even though there is political and economic turmoil in the world at large, we should rejoice because of how the Gospel is spreading and how medicine and technology are improving every day--in other words, how God is pouring out blessings for humankind. It is a message that is reiterated in General Conference as recently as last October, and it is a message that needs to be heard more than ever today.
President Hinckley urged Latter-day Saints to remember the Savior, Jesus Christ, who said on multiple occasions to the followers in His day, "Fear not."
It isn't as bad as you sometimes think it is. It all works out. Don't worry. I say that to myself every morning. It all works out in the end. Put your trust in God, and move forward with faith and confidence in the future. The Lord will not forsake us. He will not forsake us. If we will put our trust in Him, if we will pray to Him, if we will live worthy of His blessings, He will hear our prayers.
I was in the middle of a personal crisis in late January of 2008. One Sunday night, I asked my dad for a priesthood blessing. He was in the middle of giving it when the phone rang. My mom got up to answer it. When Dad had finished blessing me, Mom told us that the call was from our grandma up in Utah. President Hinckley had passed away.
President Hinckley "knights" President Eyring after his promotion to the First Presidency, about ten years ago. From an article written shortly after President Hinckley's death
(Deseret News)
I was kind of stunned by the news. Stunned enough that the next day at school I was too dazed to pay much attention to my thorn in the flesh. Sadly, I wasn't one of those cool teenagers who had a cell phone with a texting plan and I never got the memo that said wear your church clothes to school in honor of President Hinckley.
I was still working on getting my drivers' license at the time and that Saturday I drove on Interstate 10 for the first time when I went out to help Dad with some errands. In the afternoon we went home and watched President Hinckley's funeral over the computer.
Even after his passing, he made a big impact on my life. That fall, due to my increasing personal stress, I moved to Arizona to attend school for a year at Snowflake High School. My art teacher there had one of President Hinckley's quotes on optimism on his desk. But I kind of didn't believe in it. Optimism hadn't fixed my social situation back in Texas.
Aggieland Mormons via Pinterest
Then in April of 2009 I went to Disneyland for the first time. Sure, it's the happiest place on earth, but there were some stressful moments on that trip. Like how I started my period when we pulled over for a break in Flagstaff and I didn't have any feminine supplies. And then my friends and I were running late to an event with our group and we had to almost run all the way from one side of California Adventure to backstage at Disneyland. And then the morning of the second day I woke up and threw up.
The second night for some reason I didn't want to ride on Space Mountain. What was more, I made a fool of myself by talking my friends out of not going because we were trying our best to stay together in groups. I felt really bad afterward, and to this day I think it would've been smarter to just go on the ride with my friends even if I didn't want to.
But if we had gone on Space Mountain, we would never have emerged onto the main square at Disneyland right in time for the most amazing fireworks display I had ever seen. Fireworks so big and bright that they made it look like daytime.
Disneyland
When I look back on that trip, I think of everything that went right: the nice hotel we stayed in, riding The Matterhorn and Pirates of the Caribbean twice each, the Aladdin musical, goofing off with my friends, and going to the beach before we headed back to Arizona.
And the fireworks. Especially the fireworks.
And I think of President Hinckley. Things did work out. Some things went wrong and some things were less than perfect, but the way everything went, it went for the better.
Looking back at my life, things did go wrong, but they also did work out in the end. Leaving the only school I had known was a disappointment, but going to Snowflake for a year was one of the best things that ever happened to me. And then having to leave Arizona and go back to Texas to finish my senior year was the worst, but it wasn't really so bad. And I was rewarded with tenfold blessings when I got to BYU.
President Hinckley was, in fact, right when he said that things do work out for the better. So I can have the faith that, no matter what bad things I'm going through right now, or will have to go through in the future, someday I will reach a better place, and I will be able to look back and see that everything that I went through happened for a reason.